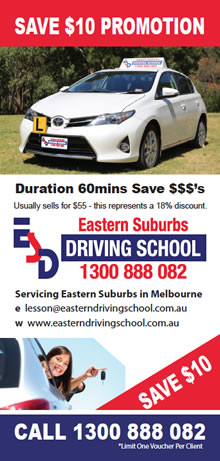 Welcome! Your search for a driving instructor has brought you to a strong and reliable family run business in Melbourne: Eastern Suburbs Driving School has been operating in the eastern and outer eastern suburbs of Melbourne for over 25 years.
Need to get your drivers license? You have come to the right place!
<< Check out our current promotions
Call Us About Our Gift Vouchers – 1300 888 082
A Great Gift Idea to Promote Safety for Learner Drivers
What would be better to help your learner driver on the way to the120 hour goal than a Gift Voucher from Eastern Suburbs Driving School? Gift vouchers are available in any denominations and or value that suits your budget
The Eastern Suburbs Driving School Gift Vouchers do not have a use by date, so they can be used to suit the individual learner needs. Payment is easy Cash, Credit Card, EFT, Cheque
Give us a call on 1300 888 082 and we will solve your gift giving for you.
"Eastern Suburbs Driving School – A Strong Partner"
For friendly and professional training – enquire now:
Always wear your seatbelt!
Meet Our Melbourne Based Driving Instructors
We are a team of friendly and experienced driving instructors offering driving lessons throughout Melbourne of highest educational standard where we teach safe driving techniques and create better drivers on our roads. We aim to have you master safe driving skills to obtain full driving confidence.
In the News
Save With One of Our Package Deals
Want to save on your driving lessons now? Choose one of the learner driver deals below:
Promotional Lesson Deal
Get $10 OFF your first driving lesson of 60 min duration, pay only $45. This represents a 18% discount. Mention this promotional code when you book: 05-14-WEBBY.
>Buy 5 Driving Lessons – Get One Lesson Free
Get $52 OFF when you buy 5 driving lessons, pay only $260. This represents a 20% discount. Mention this promotional code when you book: 10-06-WEB.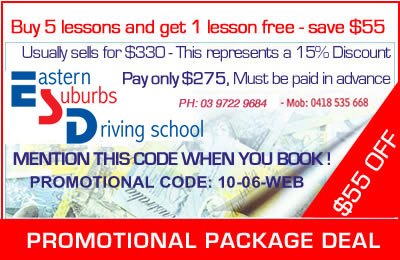 Our Tuition is tailored to suit individual needs and is applicable to:
Fleet Assessments
Overseas License Change Overs
Pre Learner Permit Programs
Hazard Perception Programs
Australian Drivers Licence for Melbourne
Eastern Suburbs Driving School provides you with:
Professional Accredited Instructors
Student Progress Report
Dual Control Vehicles
We service the following driver testing stations in the Eastern Suburbs:
Carlton, East Burwood, Dandenong, Mooroolbark and Oakleigh.
Driver testing stations in the Outer Eastern Suburbs:
Monbulk, Yarra Junction, and Healesville.
If you have any queries or wish to make a booking please use the buttons provided. You can also email or phone.